The game changer in executive search
From executive search to executive found
The executive in control. In traditional executive search it all revolves around fulfilling the vacancy. The Talentbank reverses the process. The Talent Bank presents C-level executives who are in charge of their own career and not afraid to look beyond the horizon. Successful and critical of the continuation of their careers. We present the person, the professional, their business drivers and ambition. With an online platform we facilitate companies to get in contact with C-level executives. This way both sides take matters into their own hands. 
Game changer in executive search! Unlimited access to the executive pitches and increases the chance of a successful match. From ultimate responsibility to business participation (MBI). Digitally integrated, personally selected and validated with a good understanding of the person behind the professional.
The Talentbank offers employers:
Executives who know what they want and who are open to new opportunities

A wide range of selection criteria based on hard and soft competences
Quick access to a selection of high-end executives
In control of your own executive search strategy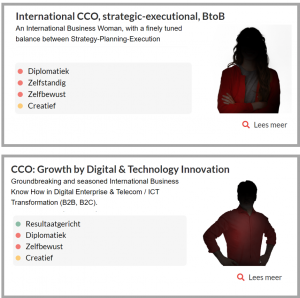 The Talentbank is a Triceps-initiative. Its consultants personally know all presented C-level executives and they ensure that the executives get presented anonymously on the Talentbank; this comes with a powerful pitch and a professional CV. Based on this Personal Branding Profile  the executive gets in contact with a potential new employer for a fitting role. The entire process until a possible final match will be supported by Triceps. If you'd like to know more about the Talent Bank, feel free to contact us at info@triceps.nl or on +31(0)88 5000 500.